Mobile Shredding Vs. Offsite Shredding in Kansas City
You can always shred documents yourself- there are costs and risks involved with doing it incorrectly. One mistake can cost you thousands of dollars in fines or lost business. That's why a Kansas City professional shredding company can help. No matter where your company is located in Kansas City or any surrounding areas, our network of local contractors offers mobile shredding services and offsite shredding services that will destroy your documents quickly and securely.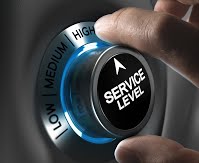 When you have a roomful of documents that you no longer need, it's difficult to figure out how to get rid of them. If there is any personal information or critical company information in those files, you need to consider what happens if they're improperly disposed of- you could have a data breach, increased risk of identity theft, and corporate spies can get your information quite easily.
There are also legal implications that all Missouri businesses need to consider to ensure that they are HIPAA or FACTA compliant. Any business that sells to companies or individuals should take steps to minimize the chance that any personal or sensitive data is securely destroyed.
What's the Difference Between Mobile Shredding and Offsite Shredding?
If you need shredding service, there are usually two main options- onsite shredding and offsite shredding. Here's a little more detail about each to help you figure out what might work best for your company.
Mobile or Onsite Document Shredding Services
The first option is what we call mobile shredding. Also known as onsite shredding, this service provides secure, locked bins for your office where you can place documents that need to be destroyed.
When you're ready to have your documents shredded, a truck like the one you see here will stop by your office and shred the documents in those bins while you watch.
Have you ever seen one of those huge shredding trucks motoring around downtown Kansas City? They're probably on their way to shred some documents onsite.
Mobile shredding companies charge based on how much paper you have- usually by the pound or by the box. The paper you have to shred, the more affordable and cost-effective onsite shredding will be. Usually, more than three boxes of documents are the threshold to having someone come do onsite shredding for you.
Offsite Shredding Services
Offsite shredding is a little different. There's still locked bins to store documents you need to destroy, and a shredding company will still come and pick it up when you need them to, or when you have a large amount of stuff to shred at one time (also called a one-time purge).
The main difference between onsite and offsite shredding is that your documents are not shredded at your location- they're taken to a secure facility and shredded with hundreds of other documents from dozens of companies throughout Kansas City.
Offsite shredding is perfect for high volumes of documents that need to be shredded regularly- If you have lots of boxes of records to shred, you could save up to $1 to $2 per box using this service instead of hiring a mobile shredding truck.
This shredding service is just as secure as mobile shredding and will maintain a secure chain of custody for your documents. All your destroyed files are also co-mingled with thousands of other pieces of paper, documents, and records, making it very difficult to re-assemble them. Since industrial shredders at secure plants shred up to 20,000 pounds of paper an hour, there's a minimal risk of your company being exposed to a data breach.
Which Shredding Service is Best for My Kansas City Business?
There are a few things that you need to consider when you choose between onsite and offsite shredding services- it really depends on the type of documents you need to destroy.
Mobile shredding should be required for shredding negotiable instruments (unused checks, coupons, certificates, etc.). It's a good idea to witness the destruction of these items to ensure that they don't fall into the wrong hands.
If you need to witness your documents being shredded, mobile shredding is the best choice. All Kansas City shredding companies provide a certificate of destruction to ensure the chain of custody is maintained and guarantee that your documents were destroyed.
What really matters is how many documents you have, and how often you want to have them shredded. An offsite shredding service is ideal for a large amount of shredding monthly it'll save you a significant amount of money over the course of a year. Mobile shredding fits your project better if you don't have a lot of documents, but need them shredded regularly.
Be sure to identify the sensitivity of the documents you're shredding. There are legal requirements, for the proper disposal of personal information, and it's always a good idea to protect corporate assets that could be leaked. Although both options here are secure, mobile shredding ensures no information leaves your workplace without supervision.
Get Free Quotes on Shredding Services in Kansas City, MO Today
No matter which service you choose, you're going to have a secure, easy-to-manage way to shred your documents no matter where you are in Kansas City. To get free, no-obligation quotes on shredding in Missouri today, just fill out the form to the left or give us a call at (816) 295-6488.